Italy Update – Movement
&

Restrictions for Road Transport
The Decree that was adopted by the Italian Government on the 8th March to help combat the Coronavirus outbreak continues to restrict movements in the whole territory of Lombardy and in the 14 provinces of Veneto, Emilia Romagna, Piedmont, Marche, which include the following 14 cities:
Modena, Parma, Piacenza, Reggio Emilia, Rimini, Pesaro and Urbino, Alessandria, Asti, Novara, Verbano Cusio Ossola, Vercelli, Padua, Treviso and Venice (Orange Zone)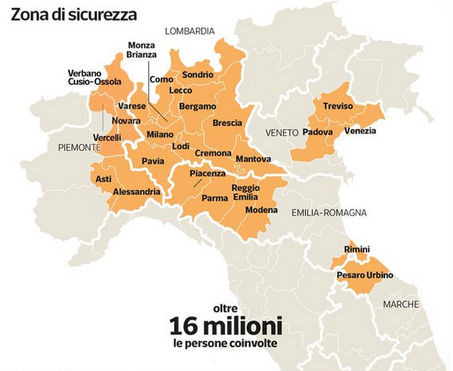 There has been and there is still some confusion if this restriction included the movement of goods by road transport, for the avoidance of any doubt  and further to clarification provided by the Ministry of Foreign Affairs
 "Transporting goods is considered as a well-grounded work-related reason for moving: carriers may therefore enter and exit as well as move within the affected areas, but only for delivery and/or collection purposes".
The above has been also confirmed by the Ordinanza of the Protezione Civile n. 646 of 8 March (ruling of the national body dealing with the prediction, prevention and management of emergency events).
As the health situation has continued to worsen, the Italian Ministry of Transport and Infrastructure recently established new self-isolation measures for people accessing Italian territory, including a series of measures aimed at all people accessing Italy for any means (air, sea or land) that are generally applied to the population and that entail being subjected to a quarantine period of 14 days.
Thus, with regard to the transport of goods by road, given its nature as an essential activity, the new regulation contemplates a set of specific measures aimed at carriers and drivers that will allow them to enter Italy without being obliged to undergo the period of quarantine and allowing circulation through Italian territory under the fulfillment of certain requirements and completing a model Sanitary Declaration to transport, which must be signed by the driver at the entrance to Italian territory and in the presence of a border official.
These measures approved by the Italian Government have special significance for road transport and, therefore, for the transporters who make international transits with Italy weekly, considering that transport is a fundamental activity to guarantee production. and distribution of the most basic products (medicines and food, among others) to the population.
The latest information available indicates that despite the slowly improving situation in Italy in relation to Coronavirus, these restrictions will continue to be applied at border entry points and in the regions affected for the foreseeable future.