500 km of Spanish toll roads are now free of charge.
With effect from the 1st September, the motorway networks managed by Abertis come to an end.
Approximately 500 kilometers of toll roads will no longer charge effective from 1st September 2021.
The principal motorway toll sections affected by this change are concentrated in the communities of Aragon, the Valencian Community and Catalonia.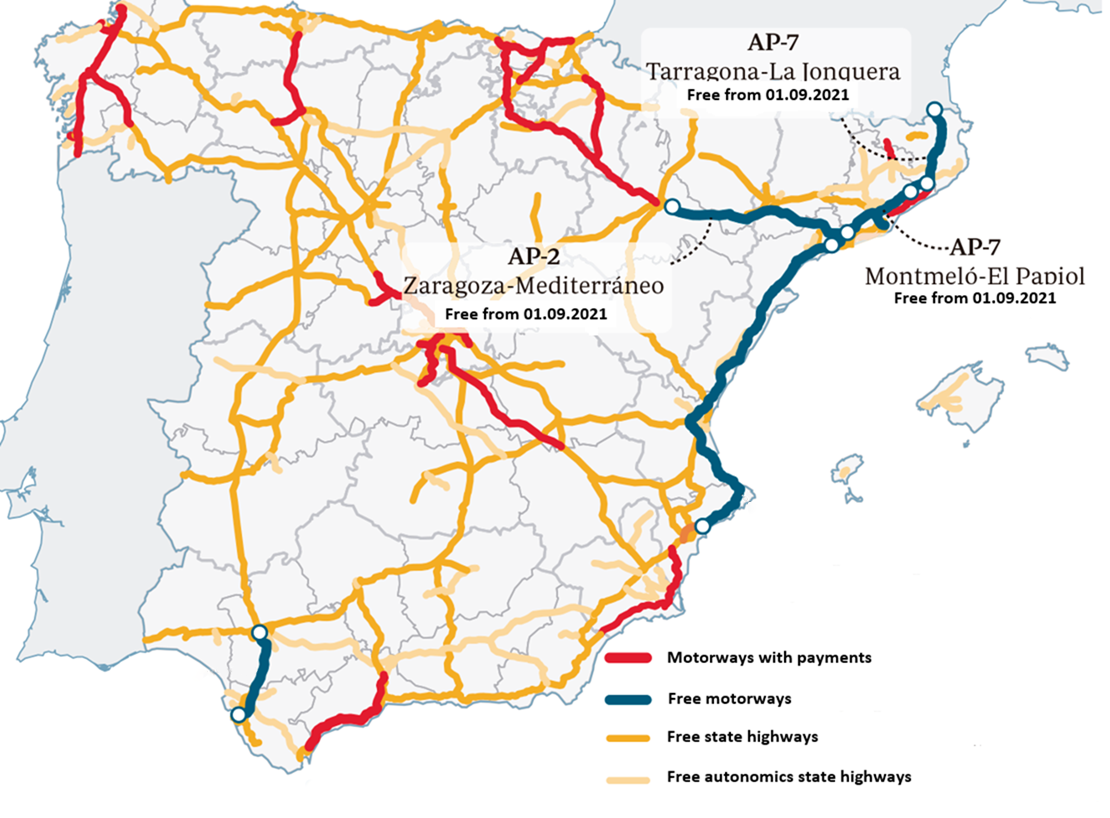 AP-7: Two sections: between Tarragona and La Jonquera, and the section between Montmeló and Papiol.
AP-2: The Zaragoza-El Vendrell section.
Conventional roads C-32 and C-33 – C-32 (Barcelona-Lloret de Mar) and C-33 (Barcelona-Montmeló).
What are the reasons?
On August 31, the maintenance and operational contract, which were managed by private companies expired in relation to the aforementioned sections on the AP-7 and AP-2 highways.
The managing authorities in Catalunya also decided not to extend the toll maintenance and operational contracts for the relevant tolls roads, C-32 and C-33.
No more tolls in Spain or just wishful thinking?
Sadly, this is not a trend that will continue for long. The Government of Spain has confirmed that they are already studying a new system of payments for the use of roads.
The new motorway toll system in Spain is likely to use GNSS (or GPS) technology to allow free flow tolling across the country, whilst the full details of the system and which roads will be covered by the new toll payment system, it is understood that the Spanish government will introduce a new tolling charge across Spain's entire national motorway network, which could extend to national roads also.
It is also understood that the charges would be applied to all road users and all vehicle sizes.
Why the change?
Spain are not alone, as central policy has already indicated we are going to transition to electric vehicles during the course of the next 10 years in a significant attempt to clean up the motor industry to help support global decarbonization targets. Currently, governments rely heavily on vehicle taxes and incentivize people with low or no tax for more energy efficient vehicles, this transition will naturally impact the revenues that are currently generated by central governments, motorway toll networks are seen as natural way to help replace this revenue to ensure that road infrastructure maintenance and development projects continue to be funded.